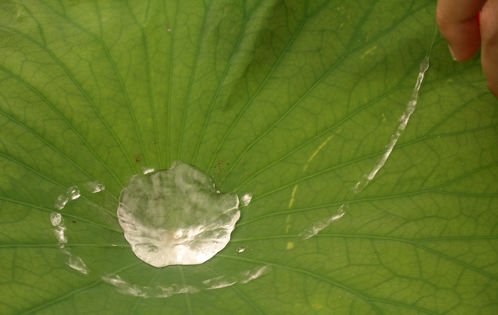 Controlling the motion of liquid drops in contact with a solid surface has broad technological implications in many different areas ranging from textiles to microfluidics and heat exchangers [1]. The wettability of a surface is determined by specifying the apparent contact angle and contact angle hysteresis (CAH) that depend on the surface chemistry and morphology. The presence of chemical inhomogeneity and morphological disorder usually increases CAH. A liquid substrate, whose surface is atomically flat and homogenous, is then expected to exhibit a very low CAH. Low CAH determines high drop mobility, while high CAH favors drop pinning. Very slippery surfaces with exceptional omniphobicity are obtained by impregnating a textured solid with a lubricant. To guide and control the motion of drops, the solid surface can be decorated with suitable chemical patterns.
In our group, the activities in this area follow three main themes: i) passive control of drop motion; ii) active control of drop motion by means of magnetic fields, optical beams and acoustic vibrations; iii) drop motion on slippery lubricant infused surfaces.
1. G. Mistura and M. Pierno, Drop mobility on chemically heterogeneous and lubricant-impregnated surfaces, Adv. Phys. X 2, 591-607 (2017).