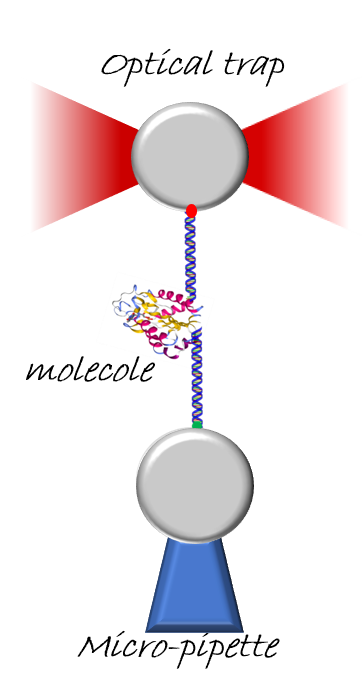 In 2018 Arthur Ashkin was awarded the Nobel Prize for Physics for his work on optical trapping, which led to the development of the first Optical Tweezers (OT) instrument in 1986 [1]. Optical Tweezers exploit the radiation pressure and highly focused laser beams to create strong optical traps able to manipulate objects at the micro- and nanoscale. Nowadays, they are considered a powerful technique in different research areas, from biophysics to statistical mechanics or nano-engineering. Since the early 90s, OT have been used to investigate the biological world and the recent technological advances have allowed biophysicists to employ them for realizing single-molecule studies. An increasing number of biomolecular processes have been studied by Optical Tweezers, among which it is worth mentioning the mechanochemistry of molecular motors, the refolding mechanisms of proteins and the elastic properties of DNA [2].
References:
1.  A. Ashkin, Acceleration and Trapping of Particles by Radiation Pressure, Phys. Rev. Lett. 24, 156 (1970);
2. A. Zaltron, M. Merano, G. Mistura, C. Sada and F. Seno, Optical Tweezers for single-molecule investigations, EPJP (2020).
In our group, the activities in this area are devoted to three main topics:
i) the study of the unfolding and refolding mechanisms of proteins, with special attention to the presence of intermediate states;
ii) the analysis of the bending, stretching and twisting properties of double-stranded DNA molecules;
iii) the investigation of small DNA-based biosensors and their allosteric regulation.